FICTITIOUS BUSINESS NAME STATEMENT 20216613900The following company is doing business as: GRAD GOT THE JOB, 1001 WILSHIRE BLVD, #2200, LOS ANGELES, CA 90017. This business is conducted by an individual ELENA ROSA PASCAL, 2 SEACLIFF, COTO DE CAZA, CA, 92679. The registrants have not commenced to do business under the fictitious business name or names listed above. /S/ELENA ROSA PASCAL.This notice was filed with the Orange County Recorder on 8/24/21.The Newport News: 9/17/21, 9/24/21, 10/1/21, 10/8/21.
[et_pb_posts_blog_feed_masonry_agsdcm posts_per_page="10″ category_id="4,5,19,17,29,14,30,31,6,33,37,22,3,23,24,34″ admin_label="Latest Local Articles" _builder_version="3.19.17″ blog_feed_module_type="masonry" _i="2″ _address="3.1.0.2″ /]
[et_pb_posts_blog_feed_masonry_agsdcm posts_per_page="5″ category_id="0,32″ admin_label="Latest Legal Notices" _builder_version="3.19.17″ blog_feed_module_type="masonry" _i="4″ _address="3.1.0.4″ /]
What's Your Favorite Streaming News Source?
Oops! We could not locate your form.
Elevation: 404′
ZIP codes: 92688, 92694
Population: 22,980 (2010)
Since: 1999
Ladera Ranch is an unincorporated planned community located in south Orange County, California . It is adjacent to Mission Viejo, California and is part of the 'Sphere of Influence' of the City of Mission Viejo .just outside the city limits of San Juan Capistrano, Rancho Santa Margarita and Mission Viejo.
Since Ladera Ranch is part of an unincorporated area and not an actual city, The Ladera Ranch Civic Council is a  form of local government that focuses mainly on Ladera Ranch. The LRCC is responsible for community issues and performs functions similar to a homeowners association. The elections are not a part of the Orange County government and not regulated by the Orange County Clerk Recorder's office.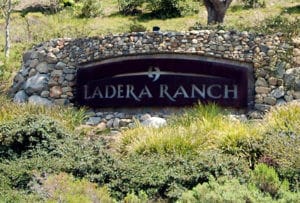 The community has several features that differentiate it from most others. For example, many traffic speed-reducing measures were put into use. Roundabouts, for example, are commonplace on smaller intersections. Narrow street widths are characteristics of Ladera Ranch's small residential streets. Landscaped street medians are common, even on two-lane collector streets like O'Neill, Crown Valley, and Sienna Parkways.
Within Ladera Ranch are two different types of areas: villages and neighborhoods. Individual builders produce an area that is called a neighborhood. There are ten or more neighborhoods per village, and there are nine villages. They are:
Oak Knoll Village
Bridgepark
Flintridge Village
Township
Wycliffe Village
Echo Ridge Village
Avendale Village
Terramor Village
Covenant Hills Village
Five of the nine villages have clubhouses themed on a particular architecture style that is emphasized within that village. There are also parks, pools, playgrounds and open areas within each village. The Covenant Hills village is a gated community which is closed to the general public, but accessible to all card-carrying residents of Ladera Ranch. There are no other gated villages in the community.
In addition to the various clubhouses, the community has key-accessed private water park and skate park, 18 community parks, a dog park, six "plunges" (smaller neighborhood pools not connected to a clubhouse), many "pocket parks"/ green belts, a shopping district called Mercantile East Shopping Center, and miles of hiking trails that go all the way to Doheny Beach from its main starting point at the prestigious 'Vista Toscana' estate in East Covenant, in the Covenant Hills village.
Member of the California Newspaper Association
Member of the California Newspaper Association
We are a local independent weekly newspaper group serving Orange County, published every Friday. We are not owned or operated by any of the big daily newspapers. The views and opinions expressed are those of the publisher and not any organization. No reproduction, in whole or in part is permitted without the express written permission of Orange County Newspapers. Legal Advertising: We have been adjudicated by the Orange County Superior Court as a newspaper of general circulation pursuant to Government Code 6000 case #A202554 on July 6, 2000 and as such is the appropriate newspaper to place legal and public notices for the Orange County Judicial Districts.
Phone
(949) 589-9990
Fax
(949) 589-6429
Address
P.O. Box 3322 San Clemente,
CA 92674